Folegandros is a truly magical island, perfect for travelers who don't mind going the extra mile for a genuine laid-back Greek island experience. There are only two ways to get there, via helicopter or boat, and it's really reflected in the the mood and pace of the island.
I highly recommend a stop here for a few days to anyone island hopping around the Cyclades. Think of it as a vacation within your vacation. We visited Folegandos between Naxos and Sifnos, but this island makes a convenient stop to other nearby islands like Mykonos, Ios, Paros, Milos, etc.
where to stay // Getting around
Every hotel on the island was booked when we were there in August, and since there aren't very many hotels to begin with, the island was at a very comfortable capacity. We stayed in the Port because it was all that was available when we booked a few months before we departed for our trip. Although the Port is lovely, I recommend staying in the Chora. You will be able to walk to most the island's restaurants, shops, and its few bars each night. The Chora is also the central dispatch location for the island's bus service. The buses, which are frequent and inexpensive, can take you to the Port and to a few of the island's beaches. The bus system is a great alternative to renting a car, ATV or moped.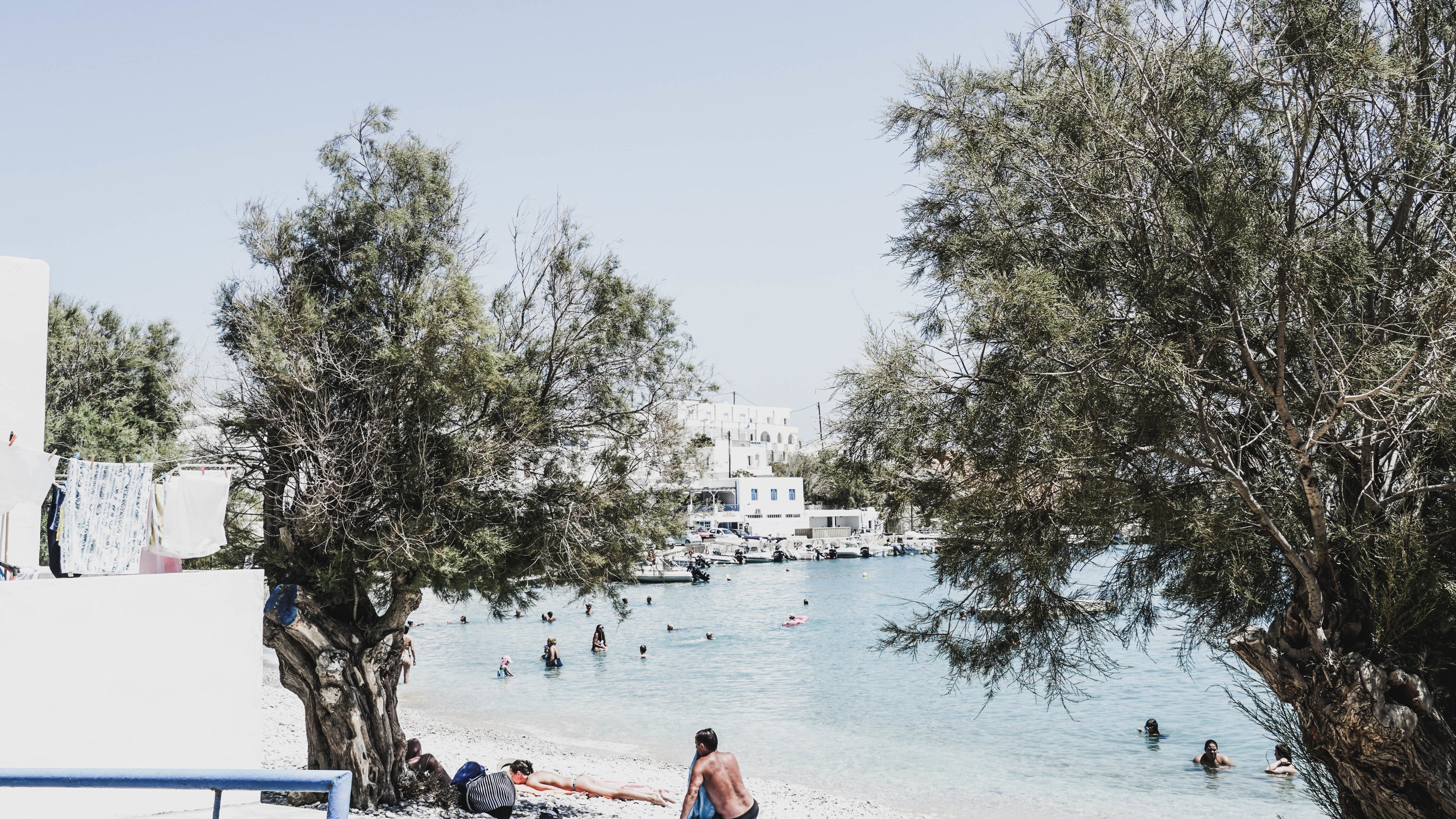 Where to eat
When we asked the staff of our hotel where we should eat dinner each night, they asked, "what would you like? Seafood, meat? All of the restaurants in the Chora are good, it just depends on what you want." It was nice to know that no matter where we ate on the island, we'd be having a delicious and thoughtfully prepared meal.

We dined at three restaurants in the Chora, and recommend all three:
Souvlaki Club - great sit down souvlaki restaurant
O Kritikos - An amazing meat restaurant
Chrysospelia - Although this restaurant specializes in seafood, I had the best moussaka I've quite possibly ever eaten here
don't miss…
A visit to the Church of Panagia, an iconic landmark of Folegandros, is a well worth the hike. The church is only open in the evenings, from 6 to 9pm.
Coffee break

A stop at Thema Chronou (Matter of Time) is worth a moment of your time not only because of their great coffee, but also because of their famous view of the castro (castle).
beaches
During our time in Folegandros we had one beach day and chose to spend it at Agios Nikolaos beach. It is only accessible by a small boat that will ferry you from Agali beach for the price of ten euros. There are two tavernas on Agios Nikolaos beach, however I highly recommend you bring your own water and snacks.
One thing I couldn't get over is how quiet this island is. I have been traveling throughout Greece since I was 6 years old but, for the first time in a very long time, I felt like time was standing still. I thought THIS is the laidback Greece people travel so far to experience.